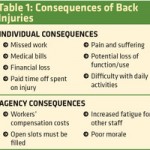 EMS World recently posted an in depth article on preventing back injuries in EMS.  This article explains how profound back injuries are in EMS and PLAD's mission is to significantly lower these numbers of back injuries by offering a device to lift patients that physically removes the EMS personnel from the actually lifting of that patient.
Article by:  EMS World
Back injuries account for more than 20% of all workplace injuries in the United States and are a particular problem in EMS, where at any given time nearly 10% of the workforce is out of work from injury. As a result, nearly 25% of all EMS workers experience career-ending back injuries within the first four years of their career. To put this in perspective, from 2000–2010, FDNY EMS alone experienced 500 annual back injuries, and if a quarter of those resulted in careers ending, that's 125 open positions each year from injury alone. The Centers for Disease Control and Prevention monitors EMS workers' injuries, and in the most recent data set available, more than 27,000 EMS workers experienced on-the-job injuries and illnesses, and more than 21% of those injuries were to the lower back.
The financial burden is not insignificant. Each year back injuries cost the economy nearly $50 billion in direct medical bills and lost revenue, and $20 billion of this cost is in injuries related to the healthcare profession. This exceeds the cost of back injuries in construction, mining and manufacturing. Each individual back sprain carries an anticipated direct cost of just over $18,000 in physician and medical bills, lost income and employer costs.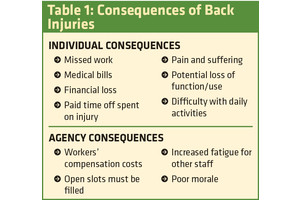 Back injuries not only affect employees but can have profound consequences on employers as well. An injury leaves the employee unable to perform routine duties. Staff may be restricted to light-duty work or left to recover at home. This time away is not vacation; back injuries interfere in nearly every aspect of daily living. On the employer side, there are workers' compensation payments and open positions that must be backfilled with other staff, possibly in the form of forced overtime. Overtime shifts are not only expensive, they also drive up provider fatigue, increasing healthy staff members' risk of injury.
More than half (62%) of all prehospital provider back injuries result from lifting patients. These injuries are a consequence of three major factors: significant lifting forces (patient weight), repetitive movements and awkward positions. Prehospital back injury statistics have not changed significantly in the past decade despite the introduction of many safe-lifting devices (e.g., automatic-lift stretchers, slide boards, slide sheets, bariatric equipment). EMS industrial partners have not failed to provide us adequate equipment; the opposite is true: EMS systems have been offered incredible and very effective tools to do their jobs. The truth is that back injury reduction requires more than a single strategy. A 2008 BMJ article supports this idea, finding there is little to no evidence that the introduction of training, lifting equipment and advice can prevent back pain or disability. The review's author did not suggest that back injuries are unpreventable, but she concluded that single applications of training and the introduction of single devices for lifting fall short. A back injury-prevention program must be comprehensive and address prevention, training and monitoring.